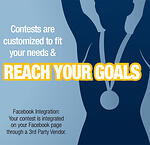 Second Street recently wrote a blog post about the Dos and Don'ts for successful Facebook contests.
Their platform, UPICKEM, is one that we use to run successful Facebook contests. It's an excellent application to run successful contests.
Facebook contests are valuable for brands pages for four reasons:
A brand or business can increase its audience by gaining more Likes
A brand or business can collect emails and data from the participants
It's a fun way to build brand awareness
It is a way to engage with your current audience/customers and new or potential customers.
However, in order for your contest to be effective, you should also follow Second Street's guidelines.
A few of the "dos" are important to reiterate.
Do use a third party-application to administer the Facebook contest. This is in compliance with Facebook's terms of service. With all contests run through Facebook, you must specify that Facebook is not a sponsor or participant of the contest. Disclose that all information collected is from the participants who enter the contest and not from Facebook.
Enable like-gating to ensure you will grow your Facebook Likes because all entrants must Like your page in order to enter the contest.
These dos are ones that I think are important to add for successful Facebook contest.
Set a goal
Understanding what you are trying to accomplish with a Facebook contest is important when measuring success. Your promotion will be determined by your goals. Your goal may be to increase your number of Likes (a percent increase in audience). Or your goal may be about collecting data and emails from contest participants. Make sure your opt-in message is clear or that your rules state that by providing your email address you are opting in for their email list.
Identify your target audience
Having an idea of who you hope to target with the contest will make some of these questions easier. "What prize(s) should I give away?" "Where and how do I promote the contest?" "What data do I need to collect?" Having fewer fields to participate in the contest results in a higher ROI. We recommend always having name and email with an opt-in. Zip code is our next recommendation. If you don't need it for your database or don't need it to redeem the prize, don't ask for it. The more work it takes to enter, the fewer participants you will have in your contest.
Make it simple
In addition to making it easy to enter, have a clear call to action with your promotion. All your promotions need to be easy for people to understand. Having a theme and great creative is an effective way to brand your contest. Keep that style consistent with your promotion whether it's an email, banner ad or Facebook mention. Pairing that with an awesome prize makes it a no-brainer for people to participate and provide their information for their chance to win. The simpler you make the process, the more successful you will be.
Create a content plan
Create a content plan for during the contest. When running a contest, you are driving new people to your Facebook page. Give people another reason to Like your page beyond the contest. People will Like business pages on Facebook if there is something in it for them. Provide value and let your brand shine through with content marketing. If you don't provide this value you may risk "unlikes" after the contest ends. A contest is a huge opportunity to engage with your audience, promote your products or highlight your services. This ties right into Second Street's recommendation for having a post-contest plan.
The don'ts are just as important as the dos. These don'ts can't be stressed enough so I will repeat what Second Street says. Don't run contests using Facebook's functionality. You are violating Facebook's Terms of Service if you run a contest that says "comment to win" or "Like/share this post to win." Plus, they do not provide the ability to collect data or convert these fans into a database that you own. You cannot contact players directly via Facebook. You cannot use calls to actions in your cover photo such as pointing to the contest app or promoting the contest.
By following these Dos and Don'ts you are setting yourself up for success. If your business is considering running a Facebook contest of your own, contact us. We'd love to help.If your business is interested in running a Facebook contest, we can help you set goals and run one successfully and in accordance to Facebook's Terms & Conditions.