Every once in awhile there are moments when it's OK to talk about yourself. Today is one of those days for the people here at Fusionfarm.
Roughly 12 weeks ago 40 members of the Fusionfarm staff launched a project called Ecommerce Camp. Six teams were each given $5,000 to launch, market and run a startup ecommerce business. The goal is to increase the ecommerce acumen within the agency and to increase collaboration between product, sales, technology and creative people.
The startup funds are spent however each team determines. The only caveat is that everyone involved meet weekly to share insights, lessons learned and obstacles overcome.
Today, each team pitched its idea and business model to a panel of six people actively involved in the local startup community. Each pitch was limited to five minutes, five slides, one handout and five minutes for questions from the panel.
The presentations can be viewed below. Each represents a significant amount of time, dedication and hard work by a group of people that 12 weeks ago knew little and had no practical experience in ecommerce or launching a startup business.
Significant progress has been made. And, no, not every idea or detail has been fully worked through. Most of the businesses plan to launch its websites in the coming weeks, so stay tuned for the progress.
As for today, I was very proud to be part of the Fusionfarm team.
Here is a sample of some of the reaction on Twitter.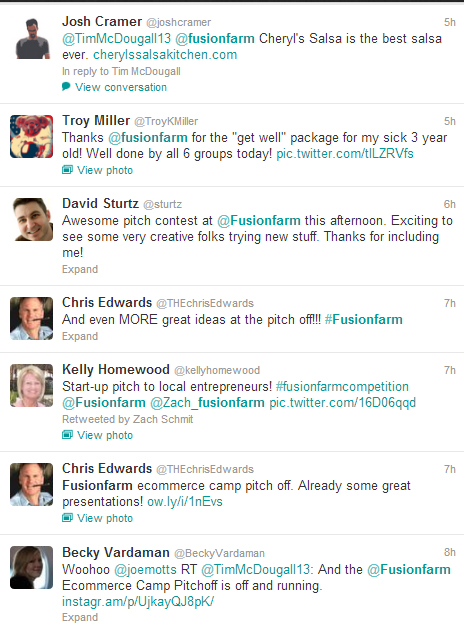 Shop Iowa
[HTML1]
Jabber Java
[HTML2]
DIY Wall Design
[HTML3]
Wine Bar Store
[HTML4]
Cheryl's Salsa Kitchen
[HTML5]
Drinking Game HQ
[HTML6]
The Panel
The panel was comprised of David Tominsky, Troy Miller, Alex Frazier, Mendel Kurland, David Sturtz and Randy Bachman.
[HTML7]