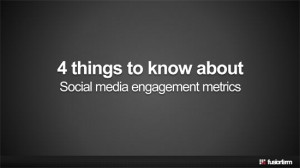 It's clear that social media is changing consumer behavior around the world. However, many businesses have yet to recognize the true powers of social media and are struggling to adapt to this dynamic new medium and take advantage of the opportunities it presents.
One of the things that make social media great is how it allows a genuine two-way conversation between a brand and its online community. This level of interaction between a brand and its community is known as social media engagement.
Social media engagement is not about passively pushing promotional content in Facebook, Twitter and Pinterest. It is more of a dynamic process that requires listening to the community and crafting content that serves the community's needs and interests while inviting active participation from them.
So how do you know if you're engaging successfully? Here are four things to consider:
Social Media Engagement Metrics #1: Know your demographics
Often overlooked, but very important metric you should consider is your social channel's demographics. Things such as the male/female ratio, geographic distribution and age are key components that can help you craft messages that resonate with your audience.
Social Media Engagement Metrics #2: Website Traffic
The most common way to measure success of your content is through website traffic. If your content is leading people to your website, it's a good sign that your message is working. The basic web traffic metrics include: number of pages visited, length of stay, bounce rate, click-throughs and referrals.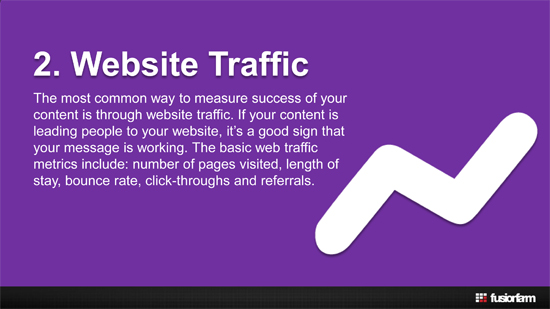 Social Media Engagement Metrics #3: Virality
What's creating the buzz around your brand? What was the post that gained the most retweets? What was the most shared story from 2012? Questions like these measure your engagement and content performance. Known as the currency of social media, engagement activities such as number of shares, likes, retweets, repins, comments, impressions, virality and +1s are what keeps your social presence alive.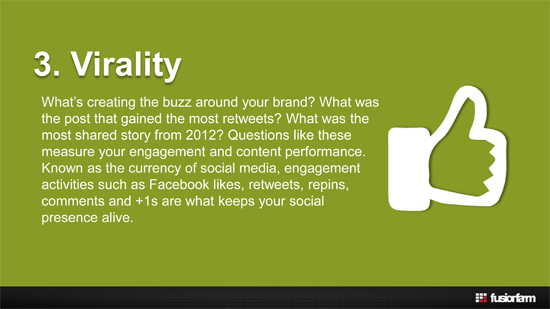 Social Media Engagement Metrics #4: Social Listening
Go beyond the numbers, consider the intangibles. Social listening is the practice of understanding engagement opportunities and monitoring brand perceptions across all social channels. Listening to what people have to say about your brand is very important. It is also necessary to look into social channels where you're not active. People are talking about your brand in social media, even in the ones that you're not active in. Metrics such as brand sentiment and services such as Klout help you measure the influence your brand has in the social sphere.
Further Reading: The three most important social media marketing metrics - Joseph Matar