Ah, the holidays – maxed out credit cards, the uncomfortable far-too-long kiss under the mistletoe with your creepy uncle Preston (come on, we all have one) and those energy bills – BAH HUMBUG!
Well Scrooge-it-no-more you guys, we have a little piece of holiday candy that will put a festive twinkle back in your eye AND teach you how to save some money on your electric bills at the same time.
Each year Alliant Energy, as part of their consumer advocacy program, promotes a message of holiday energy saving and safety. And although the list is informative, it's hardly an absorbing tale that fills you with joy. So they asked Fusionfarm to develop a compelling and memorable television commercial that would entertain, get the message through and become the cornerstone of this year's campaign.
This time of year is full of sparkle, parties and gatherings, so saving money with LED lights probably isn't high on everyone's list of seasonal priorities. And it's that insight that drove the creative for the Alliant Energy holiday television commercial – we needed an approach that evoked the emotion of the season while communicating a practical message. A bit of an oxymoron perhaps, but we like that kind of stuff at Fusionfarm – Yin and Yang, cats and dogs, Star Trek and Star Wars.
The heart of the holidays is always expressed most vividly within a child's imagination. So we started our creative journey by conjuring up our own collective inner child who drove us to a traditional holiday story spoken in rhyme within a multi-colored popsicle-stick puppet show which, together, created for an effortless, charming and immersive world.
But before you get to the commercial we thought it would be fun for you to see how much effort goes into being effortless: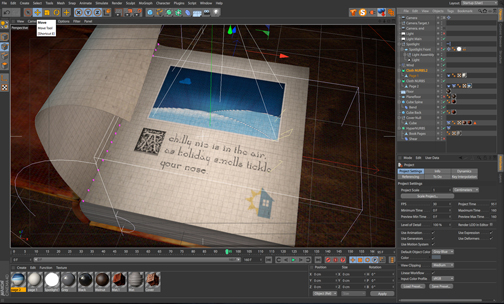 The dizzying process and geometry of getting a book cover and single page to open. Santa says patience is a virtue.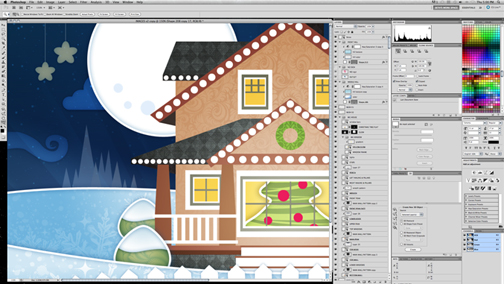 You wanted layers? How about 4.5 million? Here's the working Photoshop file of the elements in the television commercial. I had to take a Valium (doctor prescribed) just to look at this photo.
Now that you know the back story, take a look at the finished television commercial:
The Alliant Holiday Story from Fusionfarm on Vimeo.
All three people involved in the making of this commercial hail from the Fidukean rain forest on the planet Parndeet: Jake Vardaman, Art Director and He-Man of 3D modeling and motion graphics, Seth Smith, Art Director and Dark Knight of animation and visual construction and Westan James, Creative Editor and Sorcerer of sight and sound in the edit bay. Give 'em some love. And if you want to see some more of our television commercial magic hop on over to our portfolio.
Happy Holidays, y'all and tell your Momma "How ya doin'?"