As a social media community manager, it's my job to help our clients utilize various social media platforms (Facebook, Twitter, Instagram, etc) to extend their brands and engage their customers. But how do you find value in something that doesn't seem to have a physical, measurable return to the bottom line? After all, we're talking about Facebook and Twitter - the same places you see people go on verbal rampages about the latest political blunder and pop-culture faux pas.
In short: Set goals and develop a creative strategy in your brand's voice which delivers a branded experience and engages your customers.
So social medial marketing starts with setting goals.
We helped a local Orange Leaf franchisee determine their goals of increasing their market share and driving new customers to their store through Facebook and Twitter.
Driving Sales with Facebook - It Can Happen
On a Facebook Page you can create an offer for your community tied to a physical, measurable action. For example, with Orange Leaf we offered a discount on a single purchase of a bowl of frozen yogurt. To get the discount Facebook users had to first "Like" the Orange Leaf page and then were able to get the offer (which increased Orange Leaf's market share). The people that downloaded the discount then physically came into the store to use it (resulting in more sales for Orange Leaf).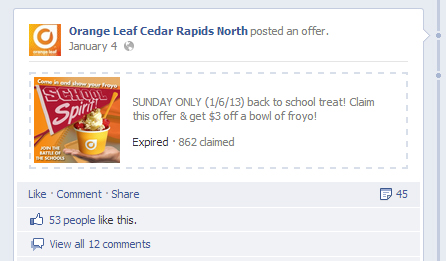 These offers spread beyond the existing Fan base too. Fans want to spread the good news of saving money and share the offer with their friends. This viral reach increases the amount of Fans on the page and creates a local buzz that's talked about outside of the digital realm. ("Did you see the great offer on Facebook?) All of this buzz lends to a fun experience in the store.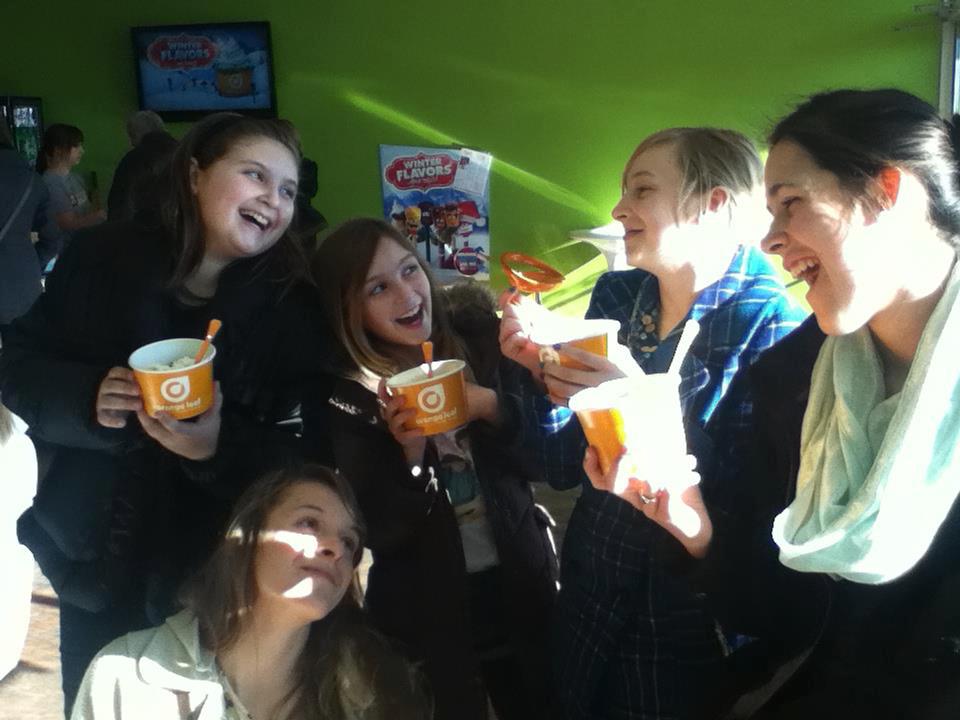 Growing Your Audience with Twitter – One Tweet at a Time
Twitter can be a powerful tool for directly engaging your customers as an official resource in your industry, a fun brand voice to interact with, and/or an accessible customer service tool.
When we started working with Orange Leaf, their inactive Twitter account had 50 followers. By monitoring Twitter for keywords specific to Orange Leaf, and geotargeting the results to a 10-mile radius around their store, we've been able to engage people on a personal level in a way that builds brand loyalty and affinity with their Twitter followers. By the way, that focus on the individual has led to audience growth of 436 percent in a few short months.
By consistently reaching out and spreading #froyo love, Orange Leaf Cedar Rapids North (@OrangeLeaf_CR) has become the dominant Orange Leaf in the area both in size of audience and engagement. We're engaging with customers and fans on a personal level daily.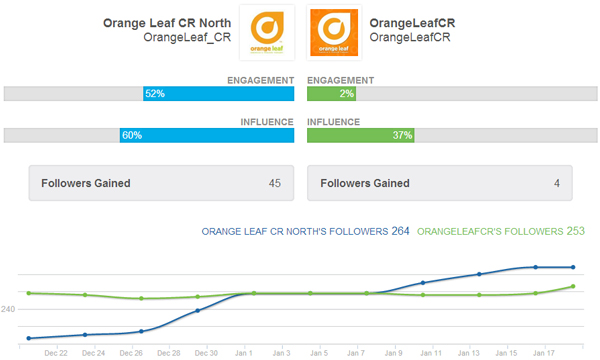 A Word from Orange Leaf Cedar Rapids North
"I knew social media needed to be a part of my marketing strategy but I didn't have the time or resources to do it well. Fusionfarm has the skills, resources and creative ideas that showcase my store through social media. Within 45 days we saw new faces in the store, an increase in engagement and a growing audience. We have seen tremendous growth with our Twitter account and has exceeded our expectations. Fusionfarm connects with our customers on a personal level via Twitter and Facebook, just like we treat each customer as they walk into the store."
- Michelle Moore, Orange Leaf Cedar Rapids North