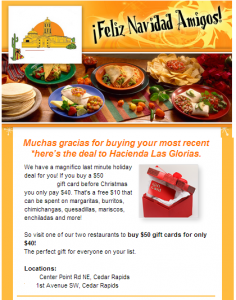 What if businesses had a marketing tool that could build product and brand awareness, enhance a social media presence and drive in-store sales? Seems like a pipe-dream, right? Well it's not. With email marketing for restaurants your restaurant can do just that.
At Fusionfarm, we've used restaurant email marketing to help local restaurants increase brand loyalty , update customers on new menu items and quickly alert customers on promotions.
Today I'd like to show how a local restaurant in our market used email marketing to stay connected with its customers, increase its Facebook 'likes' and drive sales.
Why Restaurant Email Marketing?
In late December 2012, a local restaurant owner come to us indicating he wanted to increase his Facebook 'likes' as well as drive sales of a discounted holiday gift card program. He didn't have time for a television ad, direct mail campaign or print ad so he needed to find another way to get the word out. Our team immediately suggested email marketing, and here are the reasons why:
First, the owner had an existing email list. This was seeded by having customers opt-in to his list when they bought a daily deal he ran in the market a month prior. There are other ways, however, that a restaurant can collect emails too. One of the easiest is having clientele fill out a short form when handed their bill. These forms can be successful if the restaurant provided great service and provides a compelling incentive for the customer.
And remember, anyone who provides an email address to a business is a customer who's given permission for that business to communicate with. Business must live up to this promise by consistently emailing customers with information they want to receive.
The second reason we suggested email marketing for this restaurant was because email marketing can highlight the restaurant's brand. In creating the customized email template, our expert creative service team was successfully able to showcase the design of the restaurant as well as its logo.
Furthermore, because the email was going out around the holidays, the creative team was able to tie in a holiday theme. The template retained the look and feel of the restaurant's brand while also integrating the holidays.
Lastly, email marketing campaigns for restaurants can turn around quickly. Because the promotion ended in under a week, we strategized on a concept, designed it and created and send the email in under 48 hours. Very few media channels allow this. This was all possible with email marketing.
So, email marketing for this restaurant seemed to be the right choice. But how successful was it at meeting the client's business goals?
How Restaurant Email Marketing Drives Business Results
Once the email was sent, we immediately tracking the results. Within the first day we saw more than a 50 percent open rate. It was quite a feat given that the industry average open rate for restaurant email marketing campaigns is around 30 percent.
How did we achieve such a high open rate? Our experienced email team has tested and re-tested thousands of subject lines over the years and knew how to entice this audience to open the email. The strategy we used this time was to highlight the discount on the gift card.
Once the email was opened, we saw further results that met the client's goals. The email informed customers that they could 'like' the restaurant on Facebook. And customers did. The email message drove this action because it indicated that subscribers could find out about other deals and specials only found on the client's Facebook page.
It is important to give your subscribers a reason to click-through to a website or to a social media page. In this case it was the exclusive offers on social media that drove this action. As a restaurant business owner, think about what this incentive is and explicitly state this to your subscribers. This is a formula for success.
The other goal of the campaign was to drive sales of the gift card. And we did just that. Anecdotally, the business owner of the restaurant has told us that people came in to buy his gift cards from the email.
There are more quantifiable ways to do this as well. One way we often suggest to clients is to put a special code in the email that is unique to the email so that when the customer comes in to redeem the deal or promotion, the business owner can keep track of the results.
Email marketing for restaurants can be extremely beneficial. Use these tricks and tips so that your restaurant can realize the success that our local restaurant did this past Christmas.